Secret Spaces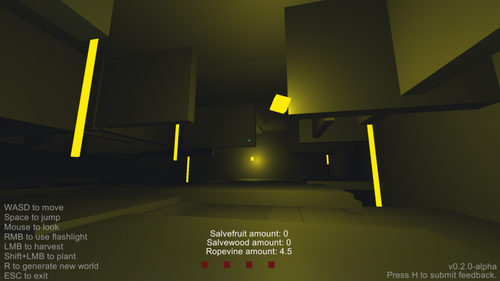 Hey, folks! It's been a while since the last update, so I wanted to make a quick devlog so y'all know what's going on over here.
It's been an exciting few weeks! I've been finishing up this semester, working part-time, and making cool games on the side (Other than Secret Spaces, did you see The Garden Of Crystal Theremins, No Mistakes, and Marked? I've been busy), which unfortunately hasn't left me a lot of dev time for Secret Spaces. That said, the game is still in development, and there's exciting stuff in the works!! Let's take a look:
First off is the most important and most exciting thing (well, the most exciting one I want to reveal): savegames! Soon you'll be able to save your game, load it, and continue ever-deeper into the Tower! This will have long-standing consequences for how I design Secret Spaces in the future, as it'll allow for longer experiences over the course of shorter play sessions.
Second off, there'll be even more level generation features! Not only does the game run MUCH more smoothly during generation now (which you'll see in the next update), there are new ways for the Tower to take shape!
Finally, there's a bunch of new options in the pause menu -- your prayers of being able to change the look speed from "ridiculously high" have been answered!
So this all this (and more!) is coming out in a couple weeks -- I want to make sure everything works well, and also I'm taking a week for myself next week as school ends and I transition (hah) to what's coming next!
After this update, there'll probably be another pause as I begin work on the Big Refactor and the last couple of major elements to put together before Beta! Once we hit Beta things will move fairly fast -- new plants, new powers, and the final secrets of the Tower beginning to show their head...
Thanks for sticking with me.
<3,
Heather